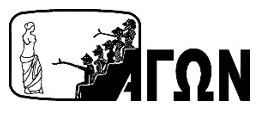 In 1995, director Memi Spyratou, awarded for her films at several international archaeological film festivals, posed the following question: with archaeological film festivals flourishing in the rest of Europe (France, Italy, Belgium, Germany, Switzerland, Spain, to name a few), why was there no festival of its kind in Greece, a country inextricably bound up with the very concept of archaeology? With that in mind, she was inspired to create AGON, a biannual international archaeological film festival in Greece.
The First AGON – International Meeting of Archaeological Film of the Mediterranean Area took place in 1996, primarily thanks to the active and unwavering support of Lena Savidis, journalist of the Greek newspaper Ta Nea, and Anna Lambrakis, archaeologist and publisher of the Archaeology and Arts magazine. The Festival itself was launched as an event of this magazine. Hugely expanded over the years, it is now organized by the AGON non-profit company.
Spanning 28 years, AGON has evolved into an institution, not only of nationwide but also of international scope, as evidenced by its collaborations with important organizations, including the National Gallery of Art – Washington, Goethe-Institut, French Embassy, Thessaloniki International Film Festival, Hellenic Ministry of Culture, Hellenic Ministry of Tourism, ERT Archives, Greek Cinema Center, to name a few. Furthermore, major personalities from the fields of culture and science, both in Greece and abroad, have collaborated with AGON, while the Festival films have been broadcast on major networks (BBC, RAI, ARTE, ZDF, plus ERT and RIK). The success of AGON also lies in its warm embrace by the general public who have been faithfully following the Festival events since its inception.
The theme of the Festival is archaeology in the broadest sense of the word: Antiquity; the Middle Ages; folk arts and traditions; industrial archaeology; cultural heritage; the creation of new cultures through migration and multiracialism from antiquity to the present; the recording of a world that is inevitably lost; the present becoming the archaeology of tomorrow.
The so-called "archaeological film" does not only tackle research, excavations, archaeological discoveries and man-made monuments; it also addresses the conditions and prevailing atmosphere of each era. Far from rekindling the ashes of our ancestors, archaeological films are complex works with scientific, social, political, and, primarily, anthropological implications which do not concern only individuals of a specific geographical place and time but rather concern humans at large.